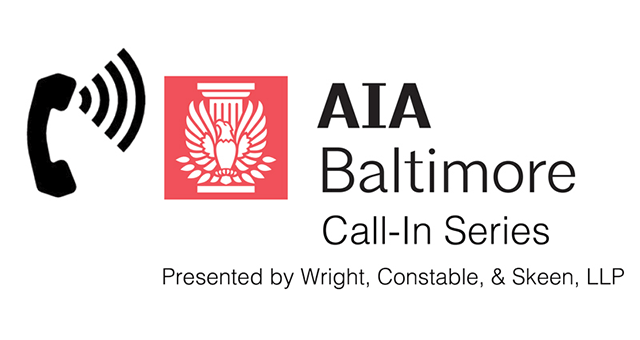 Up to 1.5 AIA/CES LUs available for attending every call in the series. Each call is worth 0.5 LUs. You must attend at least two calls to reach the 1.0 LU minimum
AIA Baltimore's Practice Management Committee and Wright Constable & Skeen present a 30 minute call-in series on legal and practice issues for architects and construction industry professionals. The number and pin will be provided the day before the event to everyone registered.
Each call is on the third Tuesday of the month, 12:30 – 1:00 pm.
---
September 18 – "Architects and Arbitration" with James Constable
AUDIO RECORDING LINK
Join nationally known arbitration expert James W. Constable for a 30-minute discussion about how arbitration can be used to replace the courts and efficiently and economically resolve disputes that commonly occur in the course of business.
About the Presenter: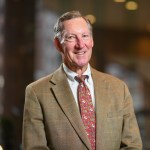 James is a partner at Wright, Constable Skeen, and has years of experience representing closely held businesses and their owners in all facets of their commercial and legal needs, including estate and succession planning. He has a special interest in land and historic preservation, having chaired the  Maryland Environmental Trust, The Manor Conservatory and the Baltimore County Landmarks Preservation Commission. He was a former board member of the predecessor of Preservation Maryland and is currently on the board of the Maryland Historical Society.
James has been an arbitrator and mediator for over forty years and been involved in hundreds of arbitrations. He is on the roster of qualified commercial and construction arbitrators of the American Arbitration Association and the International Centre for Dispute Resolution. He has also arbitrated for the International Chamber of Commerce. In addition to his service, he has authored a number of articles on both domestic and international arbitration and delivered many talks on these subjects to professional groups.
---
October 16 – "Art's Principles" with Art Gensler
REGISTER NOW
Art will offer lessons and stories from over 50 years of architecture and business. He will discuss how he revolutionized the way an architecture firm runs and the key principles have helped Gensler grow from a three-person office to a 5,000-strong international design firm that is now billing over 1.2 billion dollars annually and was named on Glassdoor's list of best places to work 2017 in the U.S.
About the Presenter: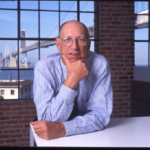 Art Gensler founded Gensler in 1965. An architect, he is widely credited with elevating the practice of interior design to professional standing. He is a Fellow of both the American Institute of Architects and the International Interior Design Association, and a professional member of the Royal Institute of British Architects. Art graduated from Cornell University's College of Architecture, Art and Planning and is a member of its Advisory Council. A charter member of Interior Design magazine's Hall of Fame and a recipient of IIDA's Star Award, he has also received Ernst & Young LLP's Lifetime Achievement Award and the Cornell Entrepreneur of the Year Award.

---
November 20 – "Architects and Intellectual Property" with Jim Archibald
REGISTER NOW
By enacting the Architectural Works Copyright Protection Act back in 1990, Congress set out to protect and empower those who design buildings as well as the arrangement and composition of spaces and elements in the design. Join experienced Baltimore trial and business lawyer Jim Archibald on a 30 minute overview of legal edifices built from that Act in recent years. The overview includes examples of recent copyright infringement lawsuits brought by and against architects in the Maryland/D.C. area. Hear how architects can protect (and defend) themselves, along with their designs, plans and drawings, in the dynamic world of today's intellectual property law.
About the Presenter: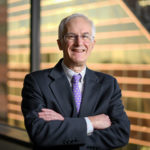 Jim Archibald, who is Of Counsel at Wright, Constable Skeen, has maintained an active business and intellectual property litigation and counseling practice for many years. A member of the Maryland bar since 1975 and the District of Columbia bar since 1985, he is listed in Best Lawyers in America in the fields of Commercial Litigation and Intellectual Property (Patent), having been voted to those listings by his peers. The recipient of many law-related honors, he is a member of the American College of Trial Lawyers and the American Law Institute. Jim speaks frequently on legal topics and is the co-author of several books, including the highly regarded "Pleading Causes of Action in Maryland," now in its Sixth Edition. While not an architect himself, Jim is a competition-level runner who spends most Saturday mornings training with (among others) two Baltimore runners who are architects.