Ashton Design is pleased to announce that David Ashton has transferred ownership of his namesake studio to Ashton's two creative leads, Alexey Ikonomou and Jenny Romei Hoffman.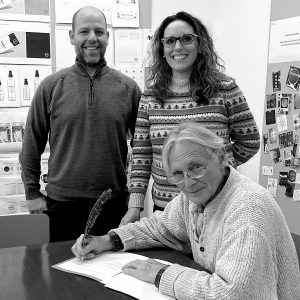 Founded in 1985, Ashton Design is Baltimore's longest-running graphic design studio. Both its founder and new owners look forward to the opportunities the transition presents.
"You know you've built a strong company when it moves to another generation," David Ashton said. "I mean, that doesn't happen often⏤even less so during uncertain times. To me, that's a big deal. With Jenny and Alexey, either of them could have led the studio on their own, but by doing it together I think they're going to be even more successful."
Of course, the original transition plan did not include a global pandemic. The new owners' commitment to the studio, their team, and their clients, however, is absolute. "We know there is a lot of uncertainty right now," Hoffman confided. "But Ashton Design's mission has always been to provide the best support possible for clients, who often own small businesses. Now more than ever, we're dedicated to working on their behalf."
Both Hoffman and Ikonomou are seasoned Ashton Design employees. Hoffman joined in 2000, where she quickly rose to director-level positions while creating award-winning work for clients such as Pew Charitable Trust and Johns Hopkins University. Ikonomou joined the team in 2011, bringing with him a more diverse professional background but an equally celebrated design portfolio. Once at Ashton, he led and designed a number of prestigious projects that included the Sagamore Pendry Hotel and L.A.'s Dodger Stadium.
In 2013, the two teamed up to serve as co-creative directors and acting studio heads. Hoffman has extensive internal knowledge thanks to her now 20-year career path at Ashton, while Ikonomou has valuable insight from founding, building, and working in other studios. The breadth of expertise has proved successful for the firm, and it made the recent transition to ownership a seamless one.
There's a sense of stability with the history at Ashton and it has proven vital in the midst of difficult circumstances. Today, Ashton Design's team is fully intact and using their collective creativity to help clients solve unexpected problems in resourceful ways.
"A studio in business as long as Ashton Design has weathered a few storms," Ikonomou explains. "While we can't predict the future, we're still looking forward. There's a strong team in place here, and when the time is right, we'll continue to grow the studio's size and our offerings. We want to provide growth opportunities for both our employees and our clients."
"In the meantime, we will continue to stand by our partners and this city," Hoffman said. "We're proud to be in Baltimore. We're committed to helping our community see this through."