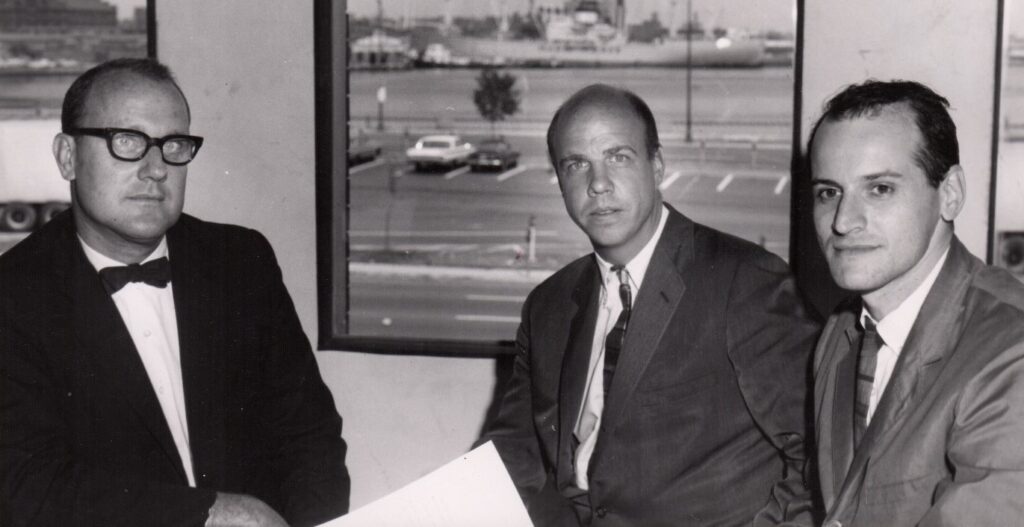 Photo Credit: Van Fossen Schwab, Bo Kelly, and Seymour Tater; Maryland Pavilion for the 1964 World's Fair in Flushing Meadows, N.Y., Courtesy of Peter Schwab
BALTIMORE SUN | NOV 22, 2020 AT 3:29 PM
George Van Fossen "Van" Schwab, a retired architect and World War II veteran who worked tirelessly for Baltimore City's renaissance, died of pneumonia Nov. 11 at the Gilchrist Center in Towson. The inveterate bow tie wearer was 98.
"Van was a very kind and gentle fellow," said Walter Schamu, a Baltimore architect and president of SM+P Architects. "He had no ego and was quiet about his career and not prone to toot his own horn. He had a wonderful career and was just a wonderful guy."
George Van Fossen Schwab, son of James Edward Schwab, a real estate developer, and his wife, Mary Elizabeth Van Fossen Schwab, who taught dramatic arts at Georgetown University, was born and raised in Washington, where he attended Sidwell Friends and graduated in 1941 from Woodrow Wilson High School.
He began his architectural studies at the University of Pennsylvania but left shortly after enrolling to enlist in the Army, where he served with an ordnance unit in Manila.
Discharged in 1946 with the rank of technical sergeant, he returned to Penn and married the former Helen Spalding "Penny" Smith in 1948.
He earned his bachelor's degree in architecture in 1948, and after working for James R. Edmunds Architects in Baltimore established his own firm, Van Fossen Schwab Inc., in 1957 in the 700 block of Cathedral St.
In the late 1950s, Mr. Schwab joined a contingent of local architects campaigning to stop proposed elevated highways that would have bisected downtown Baltimore, and he personally led the battle that blocked Interstate 70 from crossing Charles Street between Eager and Chase streets, family members said.
He partnered with architects from the firm of Tater and Kelly to design the award-winning Maryland Pavilion at the 1964 World's Fair in Flushing Meadows, New York, and the next year he designed the Kuwait Embassy in Northwest Washington and the Van Ness Center, also in Washington.
Mr. Schwab joined other Baltimore architects in establishing the concept of "One Percent for Art," incorporating works of art into public buildings in the city.
In 1968, he and architect George E. Kostritsky traveled to Philadelphia to study a volunteer design program that provided free design services to inner-city neighborhoods, which led to the founding of the Neighborhood Design Center in Baltimore.
The Greater Baltimore Committee asked Mr. Schwab to prepare plans for locating the proposed Civic Center on Light Street near the present-day Inner Harbor as a first step in the rejuvenation of the city's decaying waterfront, at the same time convincing Mayor Thomas D'Alesandro Jr. that a downtown site was the best location for the Civic Center.
"He promoted the importance of quality urban design and worked successfully with Mayor William Donald Schaefer to bring this to fruition in numerous city projects," a son, Peter Janney Schwab of Parkton, wrote in a biographical profile of his father.
Phoebe L. Stanton, a professor who taught the history of architecture at the Johns Hopkins University and was The Sun's architectural critic, wrote that his design for the Commodore John Rodgers Elementary School on North Chester Street in East Baltimore was the "best and most thoughtfully designed small school in the city."
During his career, Mr. Schwab designed 26 buildings for the Bell Telephone Co. in Maryland. He also designed his own home on Skyline Drive in Ruxton in the 1950s, his own version of a "passive solar house," his son said.
"He was a leading voice for very sensible and practical architectural excellence in Baltimore," The Sun observed.
In 1960, he became the youngest president of the Baltimore chapter of the American Institute of Architects, and was elected a fellow of the AIA in 1969.
"He focused his career on Baltimore and was devoted to modernism like so many post-World War II architects," Mr. Schamu said. "And he was really shy talking about what he had done."
He was a longtime communicant of the Episcopal Church of the Redeemer.
Mr. Schwab and his wife moved to a home on Hillside Drive in Roland Park in 1957 and in 1966 to Malvern Avenue in Ruxton, then to a town house in Towson. They lived for a decade at Oak Crest Village before moving to Brightview Assisted Senior Living in Towson in 2018.
His wife, an artist, died earlier this year.
Plans for a memorial service in the spring of 2021 are incomplete.
In addition to his son, he is survived by four other sons, David Michael Schwab of Sparks, George Van Fossen Schwab Jr. of Charlotte, North Carolina, Noel Patrick Schwab of Santa Monica, California, and Christopher Scott Schwab of Sydney, Australia; three daughters, Kathleen Conwell Novak of Towson, Beverly Anne Ottenritter of Sparks and Diana Van Fossen Schwab of New York City; a brother, the Rev. Anthony Wayne Schwab of Hinesburg, Vermont; 14 grandchildren; and three great-grandchildren.