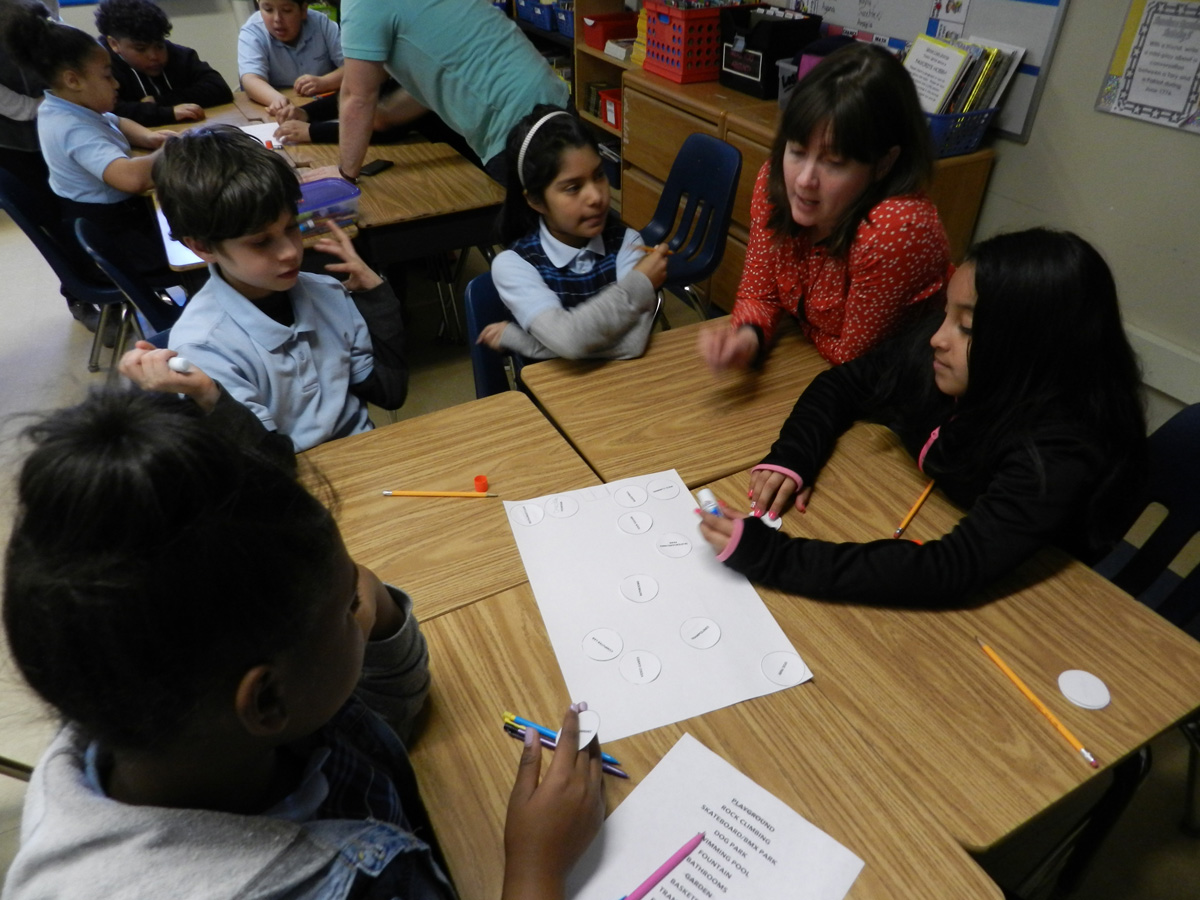 By Patrick Lundberg, Design Collective, Inc. 
As designers, it's impossible to not have at least a touch of academia conditioned into our professional beings—long studio hours, highly theoretical instruction, and training to develop creative thought into form are not lost on us. Working full time, it can be difficult to find yourself back in a classroom. Fortunately, a group of our staff at Design Collective has found that opportunity…with fifth graders.
In the fall of 2015, a small group of our staff through the Future Architects Resources (FAR) committee reached out to the administration at Patterson Park Public Charter School (PPPCS). Both the FAR committee and our staff had been looking to form a partnership with a local school focused on educating students about design and the roles of design professionals. PPPCS was an ideal institution to engage.
PPPCS is a renowned public charter school in our city that looks to promote a community-centered learning environment and aims to offer students hands-on learning experiences. Through these values, combined with a pre-existing relationship between school faculty and members of our DCI team, we began the planning process for a sustainable partnership focusing on the fifth grade class. During late 2015 into early 2016, we held multiple planning sessions between our group at DCI and the fifth grade teachers at PPPCS.
Almost eight months later, it's exciting to say with conviction that the partnership is off to a successful and productive start. After a high level of volunteer interest from our DCI team, we've been able to plan and complete six sessions to date, with two separate groups of fifth grade students. On the volunteer side, we split our group up into two teams—one for each group of fifth graders. Each volunteer team meets with their respective fifth grade group once a month, engaging in a combination of presentations and design exercises. With a total of 7-9 adults in the classroom at one time (a combination of DCI folks and PPPCS teachers), we are able to maintain a high-level of engagement, maximizing productivity.
The curriculum introduces the design profession to students, while allowing them to express their creativity in ways similar to what professional designers do on a daily basis. We've helped the students design their own community center and playground in Patterson Park, and they've been able to select program, understand adjacencies, lay out their site, and begin designing elevations. On a session-by-session basis it's been inspiring to see their interests grow, and we look forward to wrapping up this first class with a trip to our DCI offices in late May.
From the start, the PPPCS x DCI partnership has been something both sides hope to sustain indefinitely. We see great value in its longevity and continual development and we are happy with the program's success in the early going. Essential to this is the collaborative and enthusiastic nature of the PPPCS faculty, a high level of volunteer interest and commitment from DCI and inspiring precedents from efforts such as Ayers Saint Gross' involvement with Beechfield Elementary.
We look forward to wrapping up our first few months of this partnership and are very excited for what the future has in store. While these aren't late-night studio sessions or high-level discussions on advanced architectural theory, we're teaching students about design. And after this partnership, if I had a choice between college students or fifth graders, I'd pick the latter.