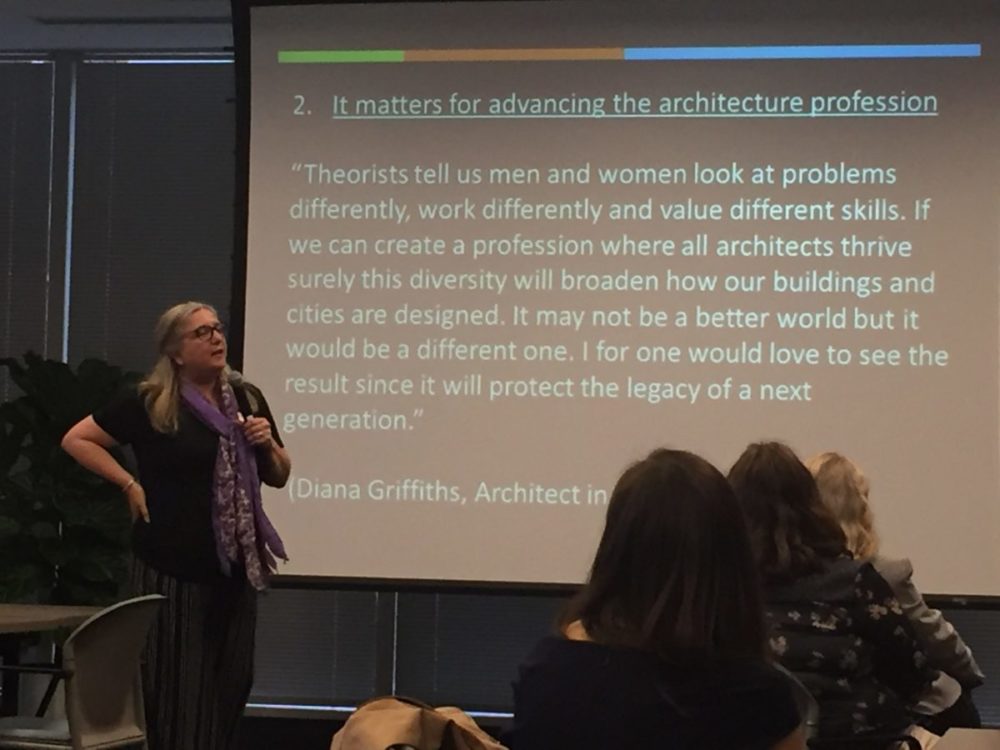 Baltimore, MD (May 17, 2018) – On May 10, the AIA Baltimore Equity Committee organized the second in the Implicit Bias in the Workplace Series—a workshop examining the subtle factors that make unconscious biases persist and strategies to increase self-knowledge and self-awareness so that we can make the most of the talents and abilities of our team members.
The program was presented by Maureen Linker, Professor of Philosophy at the University of Michigan – Dearborn. Linker's presentation explored the challenges of  coming to 'know' our own beliefs, particularly about social and cultural differences, and discussing those beliefs openly and in public, with people who may have different beliefs and experiences. Halfway through the presentation, participants were asked to interview the person next to them and make inferences based on their appearance and answers. The result was a thoughtful discussion about how social norms and our own preconceptions influence the way we see other people, and how those preconceptions can prevent us from understanding our peers, coworkers, and clients.
The presentation also focused on social identity and privilege, exploring how different factors—gender, religion, sexual orientation, race, education, disability, ethnicity, and economic class—affect how people are treated and perceived. Linker left participants with the following takeaways:
Self Understanding
Recognize that social identities matter and make up part of our belief system
Pay Attention to biases that steer you away from judging others as less credible/less of a "team player."
Understand that social identities are complex and intersectional—no one is completely privileged or completely disadvantaged
Remember that social privilege and disadvantage are not the same as personal happiness and unhappiness
Be Open to being an ally and using your privilege for good
Be Open to having allies and forming unlikely coalitions.
What Initiatives Can You Take?
Create an environment in which people feel safe to express culturally based values, perceptions, and experiences
Host social events at which music, food, & entertainment reflect cultures represented
Hire staff and leaders who reflect the community's cultural diversity
Partner with cultural organizations and institutions

Equity, diversity and inclusion is a priority for AIA and a key component of AIA Baltimore's strategic plan. Fostering a more inclusive workforce is both a professional and societal imperative, and necessary to keep the profession competitive and relevant going forward. For more information about the importance of equity in the profession, read the AIA Equity, Diversity, and Inclusion Commission Executive Summary, published in 2017.
The third part of the Implicit Bias series will be held on July 11. More information to come!
Thank You to Our Generous Sponsors




Design Collective, Inc.
L2 Design Studio
Rohrer Studio
Suzanne Frasier, FAIA