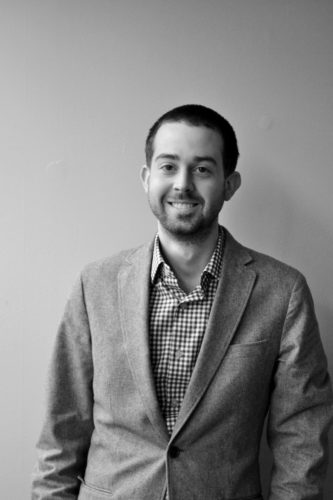 Sam Lynch, Assoc. AIA was raised in Davidsonville, MD. He attended Savannah College of Art and Design (SCAD), where he received his BFA in Architecture in 2012. Sam continued at SCAD to pursue his thesis, examining the responsibility of publicly-funded stadia to dually serve as civic spaces. Under the guidance of his thesis advisors, Sam challenged the programmatic typology of professional stadia on the way to earning his M.Arch in 2013.
Upon returning to Maryland, Sam began working under residential architect Karen Pitsley, AIA, where as an employee of a small firm he was exposed to all aspects of residential design and construction as well as the business of small firm management. To broaden his project experience, he began working for JP2 Architects in 2015 where he continues to work today. In his short career at JP2 Architects, Sam has had the opportunity to develop and design the MICA Bookstore façade renovation and contribute to the various Merriweather Post Pavilion renovations, as well as numerous other developer-driven commercial projects. Earlier this year, he competed in Boun's Urbanscape furniture design competition alongside three of his colleagues, achieving second runner up internationally. Currently, Sam is working on the new public safety building for Morgan State University.
Sam co-founded the Community Engagement Committee at JP2 Architects in 2018 to organize and encourage members of his office to participate in volunteer programs. He is also an active participant of the Canton Community Association Transportation Committee.
Sam became active in AIA Baltimore as a member of the Urban Design Committee in early 2018. The UDC was alluring to Sam as an outlet for civic-minded design and for the potential to positively advocate for communities at an urban scale. He has been an enthusiastic volunteer on the McKeldin Plaza and Rails to Trails subcommittees. He jumped at the opportunity to take on a leadership role as the 2019 Co-Chair of the committee and plans to continue the committee's advocacy in Baltimore. In 2019, Sam and fellow Co-Chair Ren Southard, Assoc. AIA will continue the committee's Rails to Trails efforts in addition to conducting a study on dockless transportation systems and future implementation guidelines.