Benjamin D. Riniker / The Umbrella / ARCH 772: Studio 6 – Terminal Project
Project Summary
Everyday trans people are not safe in public. The Umbrella seeks to be a trans-affirming and a trans-inclusive public center as well as a trans-specific space and place for people of trans experiences. In the public and community-private spaces of the center, the design of the built environment will depart from the traditional gender divided spaces to be all-gender, human spaces ("de-gender" the public spaces). The goal of the project is to create a community hub, a neighborhood center that provides the needed resources to the community on the selected site at the intersection of Howard and Monument Streets.
The 4 Zones of The Umbrella Center
Hub: Welcome, Café, Folks of Trans Experiences, + Performance Venues
Body + Mind Clinic: Trans-Specific Total Healthcare
Academy: Youth Center, GED Completion, + Job Prep
Sanctuary: Safe Housing (short-term emergency + long-term), and The Cloisters for spiritual practice and exploration
All members of the trans community are welcomed with inclusive all-gender restrooms throughout The Center, which are modeled after the research of the architectural firm JSA (Joel Sanders Associates).
The 4 zones are to provide for basic needs as well as support the full expression of a community: care for the body, the mind, and the spirit. The HUB (#1) is a place for personal and communal expression and representation. The CLINIC (#2) provides medical and mental health and wellness services that are specialized and affirming for the community. The ACADEMY (#3) is a grouping of educational spaces for GED completion and job-training programs geared towards adults, and a youth center for middle and high school youth of trans experiences. A jointly shared space of the youth center and job-training programs will be a maker-space lab, which will also be a business incubator space. Last, but not least, The SANCTUARY (#4) provides emergency shelter and long-term housing, as well as a space for reflection, meditation, and spiritual expression and/or religious practice in The Cloister. Beyond educational support and job training, providing for a means of economy is a vital provision for the community of folks of trans experiences. The Umbrella Center will prioritize the employment of folks of trans experiences, and support and promote the professional development of folks of trans experiences to staff the Umbrella Center.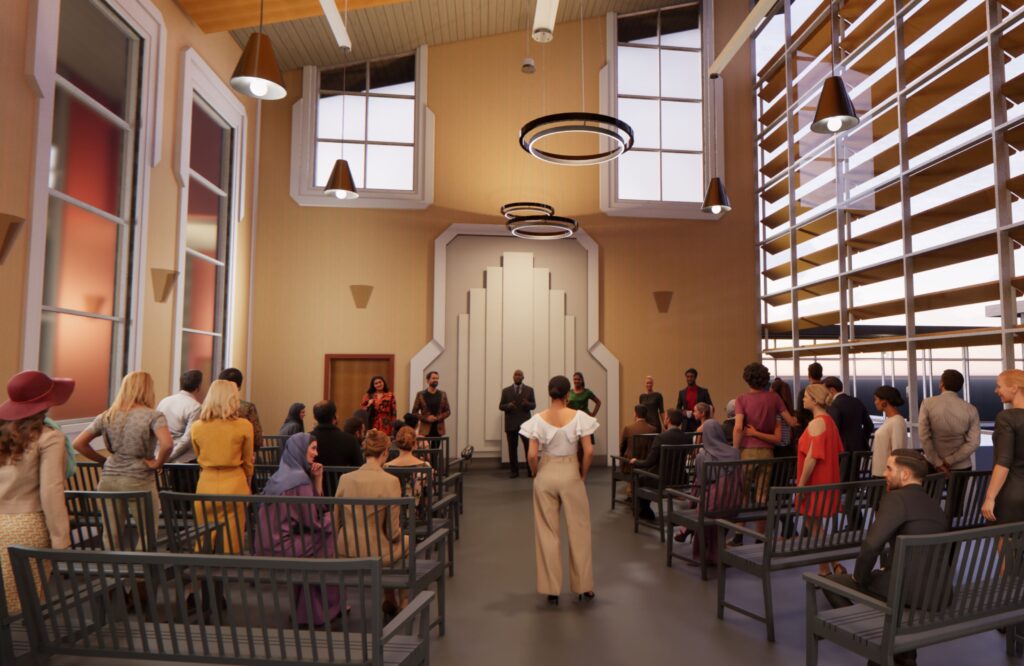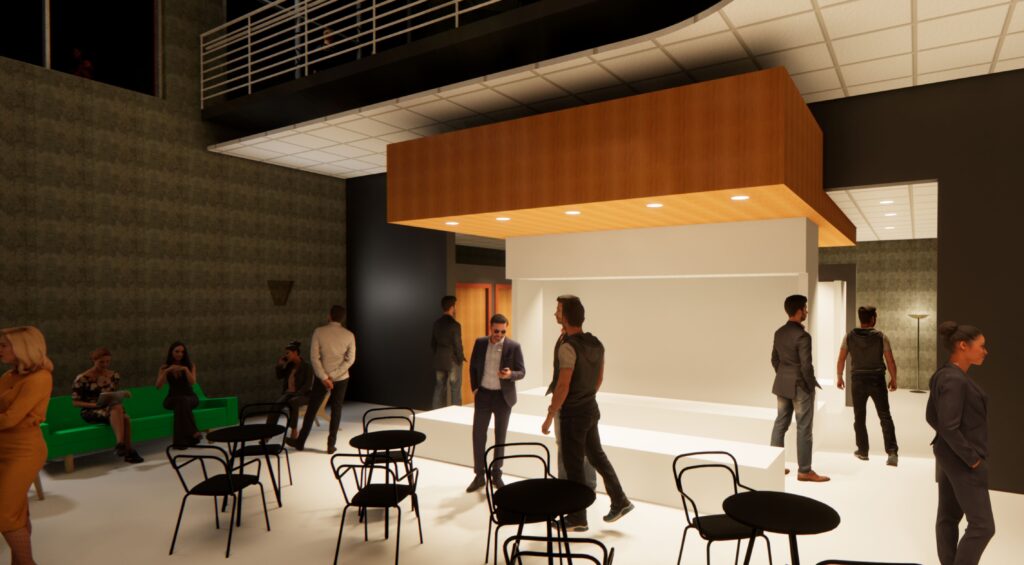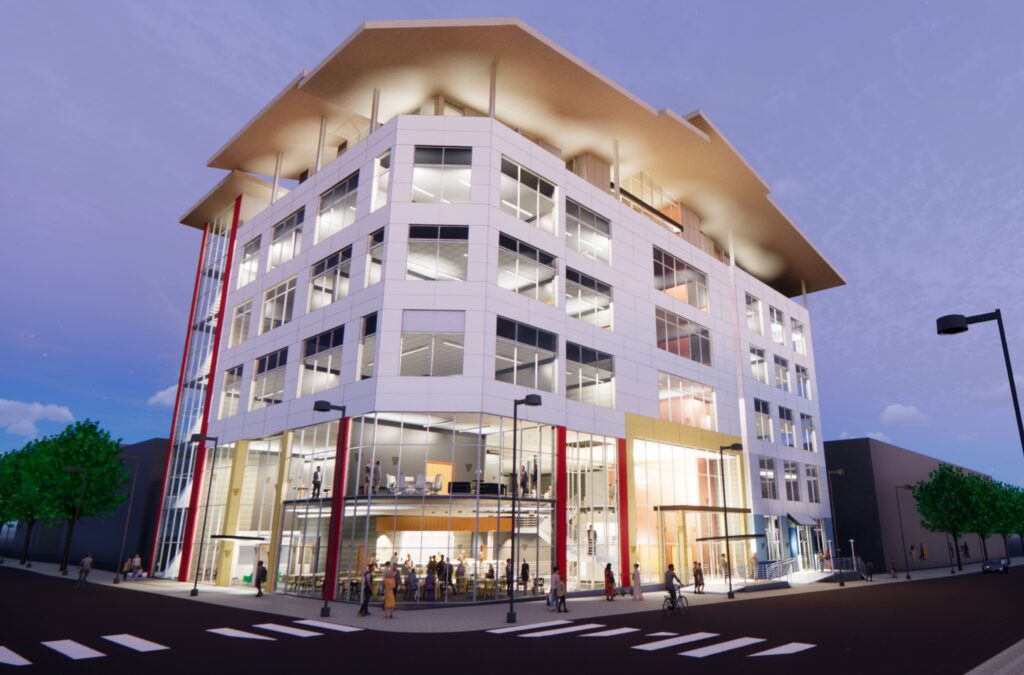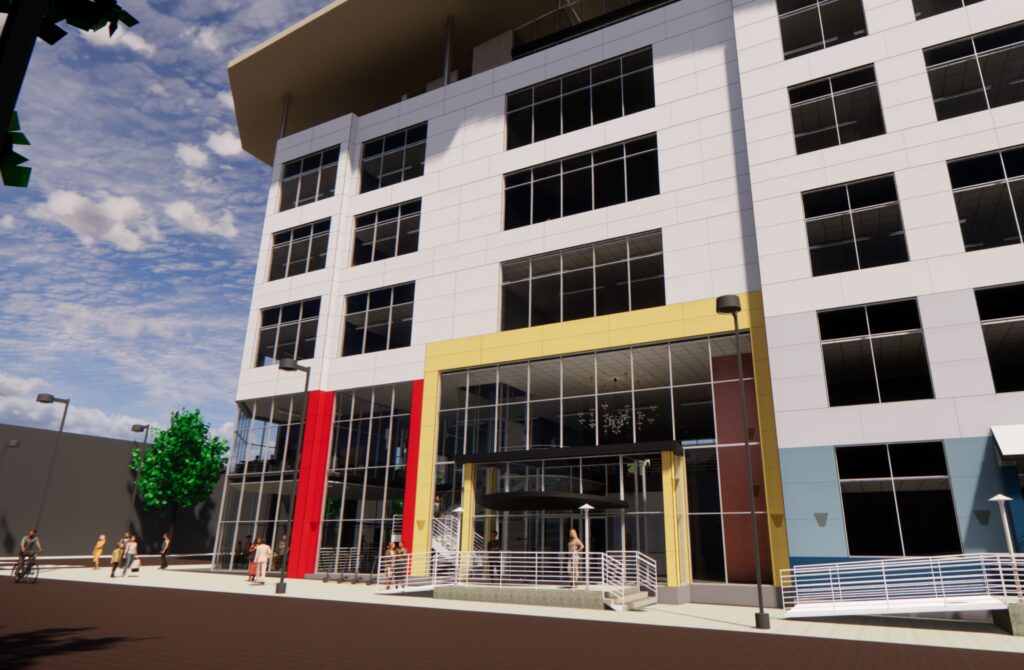 Benjamin D. Riniker / The Umbrella / ARCH 772: Studio 6 – Terminal Project
Spring 2020 / Ruth Connell, AIA, Associate Professor / Morgan State University