Frederick Henry Brauns was born on October 4, 1845, but we do not know where, nor do we know anything about his training. By the age of 18, he had his own office–not unique in those times. He did not use his first name professionally.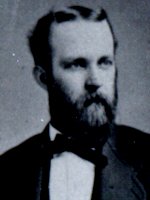 Brauns died on May 7, 1917 in Betterton, Maryland, a popular resort town on the Chesapeake Bay in Kent County. He is buried in Lorraine Park Cemetery with his wife, Isabella Stewart, and five other family members.
Henry Brauns is another of the more obscure architects who were charter members of the Baltimore Chapter of the AIA in December 1870. He appears in most Baltimore city directories from 1863 to 1912, with his office in several locations in the vicinity of Charles, Lexington and Fayette Streets. Most architects' offices were in that neighborhood when the Baltimore AIA was formed (chapter offices were at Charles and Lexington Streets), and many remained in that area well into the 20th century.
Many of Brauns's known works were industrial buildings, including the Knabe Piano Works (1869), the G. W. Gail & Ax Tobacco Warehouse (1886), and various buildings for the city's water and sewer works, including the Mount Royal Pumping Station (1897). While utilitarian in function, these structures were highly ornamental, excellent works in their various periods.
Another example of the period when city structures were intended as ornaments to the city is the Northern District Police Station (1899) on Keswick Avenue.
Brown's Arcade on Charles Street, between Saratoga and Mulberry, is another of Brauns's works. The Lorraine Park Cemetery gate house (1884) is an example of the ornamental building then required at the entrance to every successful public cemetery. The Romanesque tower and facade of Holy Cross Polish National Catholic Church (1902) on South Broadway brought an 1853 church by William H. Reasin up to date.
With so many of Brauns's buildings being for industry and public utilities, most are gone, the victims of technological advancement, replacement, relocation, highways, the stadium and the Baltimore Fire. The Brauns buildings which remain exhibit the same styles and excellence in design which characterize all professional architects' works in his era.